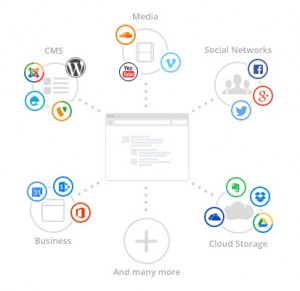 When you create online resources we use the latest technology (for example, our staff is developing websites for cms Joomla, Opencart and WordPress, are so popular today), that allows us to easily implement a corporate web sites of any complexity, which means, visitors to your site will never complain about that, scho site "inhibits" or long loads, whether, as much information on it available.
Currently the company "s website" works with the most modern and CMS: Joomla, WordPress, Drupal, OpenCart.
Joomla
Joomla is arkasna content management system, designed to create and manage sites. Joomla is free and free for distribution.
CMS Joomla provides opportunities: system allows you to create a small site, business cards, displays only basic information about the company-owner of the resource, and online retailers and portals, that are much more complex and massive structure. With Joomla! you can create a site of almost any purpose - from simple personal pages to a powerful trading system or social network with millions of visitors.
By the undisputed advantages of the CMS include the following:
Management structure and content of the site;
The information content of the site: Download content in text sections, a news, Press Release, Special. proposals, Articles;
Networking and information from feedback forms;
Setup and Administration Forum;
Subscriptions and Newsletters (other useful information) subscribers;
Setup and management of blogging;
Creating user groups, setting permissions to access pages;
Create content and catalog;
Creation, Content management and online store;
Setup and management section "Questions / A "and" Guestbook ", opportunity to moderate posts;
Spam (Captcha);
Create and manage surveys;
Creating and filling galleries;
Getting information about current weather and exchange rates;
Accounting for visits to.
WordPress
WordPress is an ideal platform for publishing, focusing on aesthetics, Web Standards, and usability. WordPress is free and free for distribution.
CMS WordPress finds a wide application in the creation of Internet resources: from blogs to news sites is quite complex and even online stores. A good architecture and built-in "themes" and "plugins" allows to implement the most ambitious projects.
By the undisputed advantages of the CMS include the following:
ease of installation, settings;
opportunity to publish with third-party applications and services;
Immediate publication;
support so-called "themes", to easily change the look and, and ways to output;
"Themes" are implemented as a set of master files in PHP, that positively affects the speed and flexibility;
huge library of "themes" and "plugins".
OpenCart
OpenCart is a powerful network system of trade open source, that combines modern technology and simple interface. OpenCart has many features and easily adapts to trade in Ukraine.
By the undisputed advantages of the CMS include the following:
Unlimited number of categories
Unlimited number of products
Unlimited number of producers
Multivalyutnіst
Multi
Open Source
MVC architecture
Free documentation
The local community and services
Great base extension