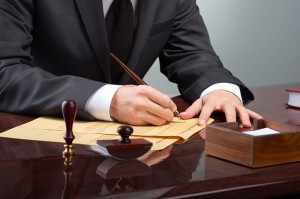 Website for notary (notary office) obeys very definite requirements. The main requirement is that, the work of a notary, all of its features and specifications, should be reflected on the site in full. Performance requirements for completeness and relevance to provide information at the notary can only be achieved using modern, comfortable, easy to learn CMS content management system. More to the point, that analysis of the existing sites notaries shows the importance of the notary on a typical site following major sections and control modules.
Notary – almost the same profession expert help (abroad used catchword "helper"), as, suppose, physician or specialist of preschool children. Notaries to come not only to convey three copies of the contract signed or issue power of attorney to purchase real estate. For your website we will find solutions, best price and functionality for the site notary. Depending on the tasks and the required functionality created using the site or other CMS, the most relevant requirements put forward, and experienced programmers establish and prove the site to perfection.
Sites for private notaries professionals – notaries, Sites differ from bureau, notaries and other professional associations and legal entities. For others more suitable overall concept "professional community", tight contact with visitors. For the first more convenient option should be considered a, where the emphasis is on the individual notary, his professional achievements, education, level of competence.
List of services, provided, notarial acts – mandatory part of the site notary. The more and more clearly describes the services provided, the more likely, that a potential customer comes to the notary office.
We develop for you a turnkey site notary, offer various options for development. Save time allow the use of ready-made solution for the website. Solutions can create a site notary and run the project with minimal resources. In this version web site we can make a website and run it on 5-10 days. If changes are needed – our experienced development team web site under studio finalize your requirements.
When creating a site we find a notary effective solution for you, develop attractive design, think over easy navigation Site. We have many years creating websites and knows, that it takes to create a quality website notary.
We carefully think over each site. Specialists of web studio study sites leading market Notaries, programmers implement new technologies, SEO-specialists think through how to make, In order to be liked search engines. We will find effective solutions to provide information about you. Attractive design, convenient structure, You will provide interactive services to other sites notaries and notaries.